Population in Urban Area, now
World:

11th

North America:

2nd

United States:

1st
New York City Urban Area Population Graph
New York City Population Review
Welcome to the Big Apple! New York City is one of the most famous cities in the world—and the most populous city in the United States. With 8.3 million people, New York City is more than twice the size of Los Angeles, the runner-up. This glamorous city's population growth shows no sign of slowing down either. New York City is predicted to more than double in size by 2035, up to 20.8 million residents in the New York City urban area.
New York has the highest population density of any American city, with over 10,194 people packed into every square kilometer. This is about 3,000 more people per square kilometre than San Francisco, which is the next city in the United States that even comes close to New York City's population density.
New Yorkers speak over 800 languages
New York is an incredibly diverse city and over 3 million of NYC's residents are foreign born, with over one-quarter arriving in the past 25 years. This variety of people means that you will hear plenty of different languages spoken in the city. In fact, there are over 800 languages spoken in New York. While 51% of New Yorkers' speak English, the other 49% speak Spanish and other languages. While many people in New York don't even speak English, the stereotypical New York accent is still one of the most globally recognized because of its common portrayal in the media.
A multicultural hub
New York City is home to many suburbs populated by immigrants from other countries. There are more people of West Indian ancestry living in New York City than in any other city outside of the West Indies and the city also has the largest Puerto Rican population of any city in the world. There are also more Dominicans that live in the city than in any other location in the world, barring Santo Domingo in the Dominican Republic. New York City also has over 2.4 milion residents that identify as Hispanic, more than any other city in the United States.
New York is a young, educated city
New York is a young, cutthroat city. The average age of people living in New York is 35.8 years old, which is two years younger than the national median of 37.7 years of age. New Yorkers are also more educated than their counterparts in other American cities. One-third of New Yorkers have at least a bachelor's degree, compared to only 30% nationally.
A city of renters
Due to the cost of buying in New York, renting is something people do in the city for their entire lives. Expert data shows that people in their 20s to 40s outpace homeowners by a massive gap and that numbers of owners only start to catch up to renters when people reach their 50s—and that's only if you factor in owners who own their homes mortgage free (a rare population). In general, there are about four times as many renters in their mid-thirties in New York City than there are in other major cities like Chicago, Austin, or Washington, D.C.
Restaurants Galore
New York City is known for its incredible restaurant scene, and New Yorkers take full advantage of that. There are, on average, about 27,000 functioning restaurants in New York City at any given time and they serve tens of thousands of people each night. The city's culinary hot scene is also aided by the fact that it's not uncommon for New York City apartments to not have full kitchens (or some to not have kitchens at all). This may help explain why New Yorkers eat out 130% more than other Americans and spend about $8,000 per year on food outside the home (including take out).
Review Updated: July 8, 2020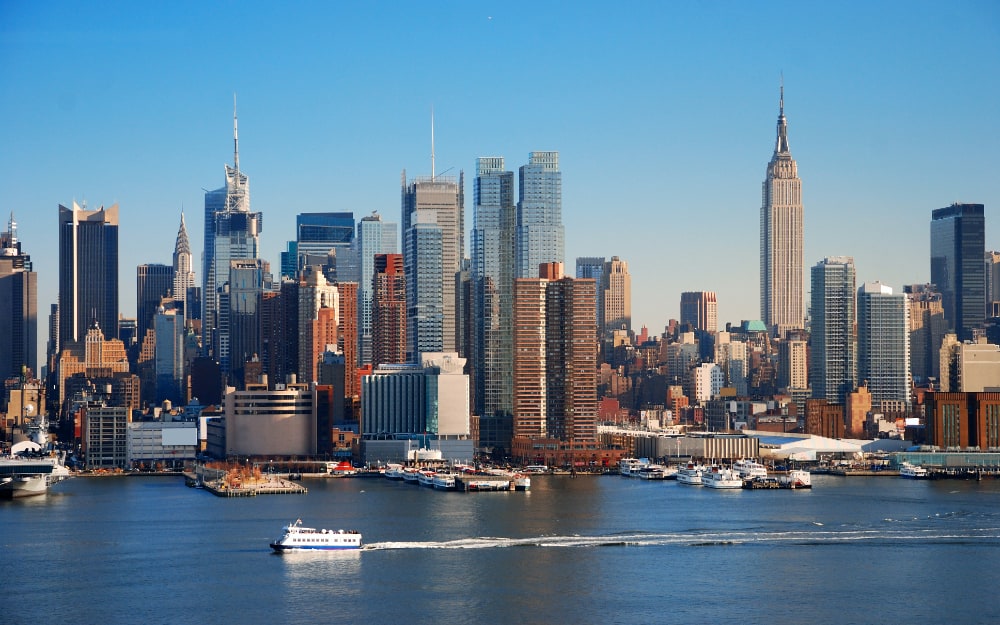 New York City Skyline
New York City Urban Area Population History
New York City Urban Area Population Projections
Map of New York City, United States
Other Biggest Cities in the United States