Population in Urban Area, now
Population in City Area, 2019-03-15
Mexico City Urban Area Population Graph
Mexico City Population Review
Welcome to Mexico City, the capital of Mexico and the most populated city in all of North America. In the past 70 years, Mexico City's population has grown by leaps and bounds. The city's population has increased by an incredible 544% since 1950! Now with 21 million people calling Greater Mexico City home, the city has easily become the largest metropolitan area in the Western Hemisphere.
The city has 16 municipalities that stretch across 1,485 square kilometers. The city is surrounded by mountains and volcanoes and rests primarily on what used to Lake Texcoco. While the lake was drained in the 17th century and no water remains, the city continues to suffer sinking, runoff, and wastewater management issues due to the soft lakebed collapsing.
75% of the State of Mexico's population lives in Mexico City
The State of Mexico (often abbreviated to Edomex from Estado de México) is one of the 32 federal entities that make up Mexico proper. It is also the state in which Mexico City is located. The state contains 14% of the country's total population, 75% of which live in a municipality that's part of Greater Mexico City. As of 2010, eight of Mexico City's 16 municipalities had over 6 million people.
If that seems like a lot of people in a small amount of space, you're not wrong. Mexico City's population density is estimated to be 6,000 per square kilometer. Within the Greater Mexico City area the population is even denser, with 9,800 people per square kilometer.
Mexico City has the largest population of US citizens outside of the US
The number of foreigners living in Mexico City has grown by 95% in the last decade, most of which are from the United States. Mexico City has the biggest population of US-citizens living outside of the United States. There are an estimated 700,000 US Americans that currently call Mexico City home (and about one million UX immigrants throughout Mexico).
Wealthy for Mexico, struggling overall
Mexico has a robust economy and the 15th largest GDP in the world. However, about half of all Mexicans live in poverty—and nowhere is that more obvious than in Mexico City. A study in 2004 found that 11% of the urban population was extremely poor and 42% was moderately poor. Much of these issues can be traced back to Mexico City's inability for its services and housing to keep up with the city's growth.
Review Updated: September 26, 2019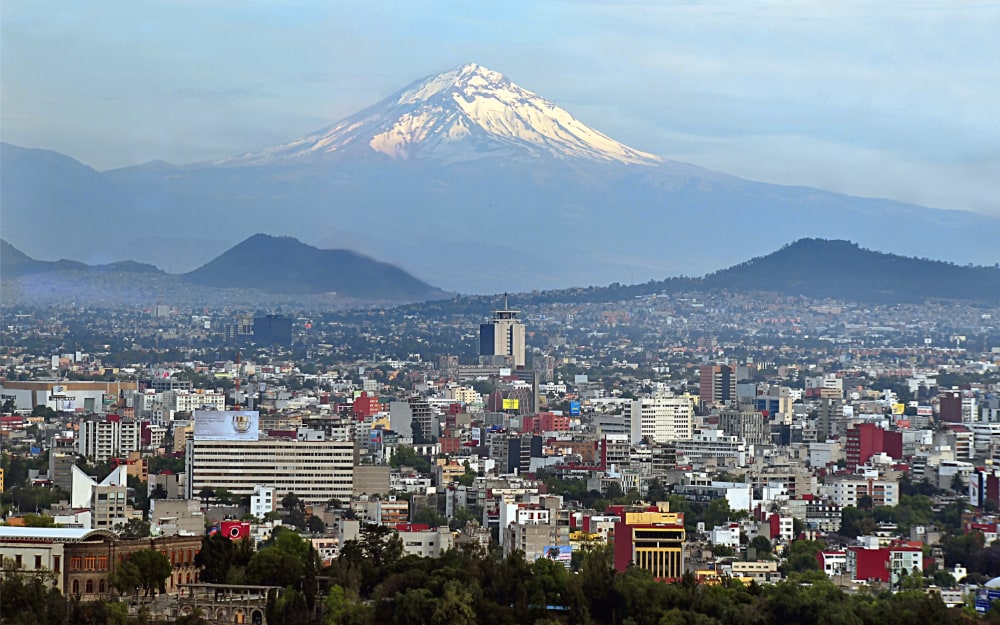 Mexico City Landscape
Mexico City Urban Area Population History
Mexico City Urban Area Population Projections
Map of Mexico City, Mexico
Other Biggest Cities in Mexico