Population in Urban Area, now
World:

2nd

Asia:

2nd

India:

1st
Population in City Area, 2022-03-09
World:

12th

Asia:

9th

India:

2nd
Delhi Urban Area Population Graph
Delhi Population Review
The ancient city of Delhi in northern India is a union territory in India that also contains New Delhi, the country's capital. Inhabited since the 6th century, Delhi has served as the capital of many empires and kingdoms over hundreds of years. Now, Delhi's urban area is home to 30.3 million people, 10.9 of which live in the city area (as of 2019).
Delhi is the fifth most populous city in the world, and is the largest city area-wise in all of India. Delhi covers 1,484 square kilometers, which is quite large. However, due to Delhi's enormous population, there are still 11,900 Delhiites living per square kilometer. This is one of the highest population densities in the world.
One of the fastest growing populations in the world
Delhi's population boom has been a dramatic one. In 1950, Delhi had a modest population of 1.3 million people. Since then, the city has seen its population grow each year to over 29 million people. That's a growth of over 2000%! Delhi continues to be one of the fastest growing cities in the world and experts predict the city will have over 43 million people living there by 2035. This rapid growth has also helped established Delhi as one of the world's 10 fastest growing residential markets.
Skewed sex ratio leaving men behind
For every 1,000 men in Delhi, there are only 867 women. This skewed ratio means that many men are left single while women have the choice of more educated, financially stable partners. This drastic change in India's long-held traditional gender roles has meant that Delhi, and the country overall, has seen a disturbing spike in violence against women as men lash out and women bear the brunt of it. This has led many travel agencies to warn women against travelling alone to India and, if they do, to follow a litany of safety tips to help them safe.
The city suffers from a chronic housing shortage
With about 700,000 new people flooding into the city every year, Delhi continues to struggle with pollution, traffic, and housing shortages as people move to the city to find a better life. Putting in place the services and infrastructure to support this booming population could cost the city as much as $78 trillion over the next decade. As of 2011, there were 65 million people in India living in slums within the city.
An economic powerhouse
Delhi is an economically successful city that has the largest commercial center of any city in the country of India. There are over 1,440,000 people who commute in and out of the city on a daily basis to go to work and to help keep the city running. Some of the city's main industries include information technology, hotels, media, telecommunications, banking, and tourism. These industries show no sign of slowing their growth either, considering that recent estimate of the economy in Delhi's urban area range from $167 to $369 billion and continues to grow.
One of the largest metro networks in the world
The Delhi Metro is one of the largest metro networks in the entire world. It covers a distance of almost 277 kilometers with its deepest point almost 45 meters underground. Every year, the Delhi Metro carries a staggering 700 million passengers back and forth across its lines—more people than the entire population of the United States. The metro system has helped the city of Delhi remove over 700,000 vehicles from its streets, which has helped to quell concerns over the rising issue of air pollution in the city.
Review Updated: July 8, 2020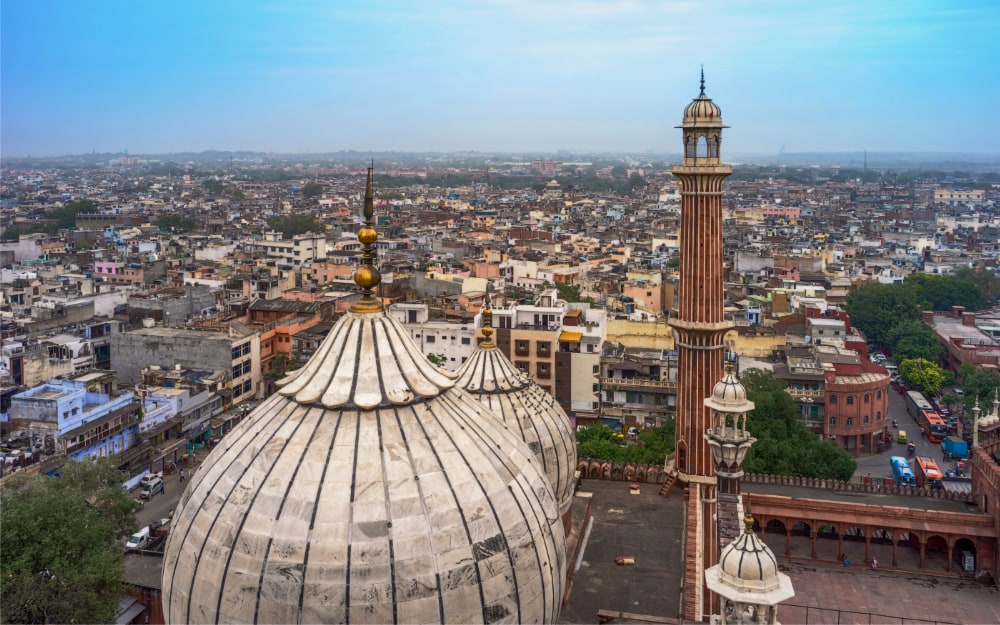 View from Jama Masjid mosque in Delhi
Delhi Urban Area Population History
Delhi Urban Area Population Projections
Map of Delhi, India
Other Biggest Cities in India