Population in Urban Area, now
World:

5th

South America:

1st

Brazil:

1st
Population in City Area, 2022-09-21
World:

15th

South America:

2nd

Brazil:

1st
Sao Paulo Urban Area Population Graph
Sao Paulo Population Review
Located on a plateau of the Brazilian Highlands, Sao Paulo is the largest city of Brazil. It has one of the fastest-growing populations in the Southern Hemisphere and it is one of the top 10 largest metropolitan areas in the world. As of 2020, it is estimated that there were 22 million people living in Sao Paulo's urban area.
In the past 70 years, Sao Paulo's population has ballooned, growing from around 2.3 million to its current population of 22 million. This is an astronomical increase of 836%. The Greater Sao Paulo area covers a total of 7,951 square km and the city area is 1,493 square km. Within the city area itself, there are 10 milion people at a population density of 7,216 people per square kilometer.
81% of Brazil's population lives in urban areas
Much of Brazil is sparsely populated and almost 57% of the country is covered by the Amazon rainforest. On average, the country has a population density of 24.66 people per square kilometers, which is quite low. Out of the 211 million or so people living in Brazil, 81% of the country's population lives in urban areas. Most of these people are split between Sao Paulo, Rio de Janeiro, and Salvador.
An ethnically diverse city
Sao Paulo has one of the largest immigrant communities in Brazil. When slavery was abolished from the city in 1888, Sao Paulo began to receive waves of immigrants from Europe. In ten short years, Italians accounted for 50% of Sao Paulo's population, followed shortly by Japanese, Korean, and Chinese immigrants. That influx of immigration continues to show in the city, with 81% of students currently attending the University of São Paulo identifying as being descended from foreign immigrants.
Cars, cars, and more cars
Sao Paulo's transit system lacks in infrastructure, which means that residents get around mostly by car. In fact, the city has some 7 million personal vehicles on its streets. This is unusual for a large city and causes quite the headaches. People living in Sao Paulo suffer through crazy traffic jams, with drivers in the city spending an average of 102 hours per year stuck in traffic. This overabundance of cars doesn't help Sao Paulo's already polluted air space. Experts have stated that poor air quality in Sao Paulo kills more people than breast cancer, AIDS, and car accidents combined. On average, 4,600 people die each year as a result of air pollution.
A city for tourists
Sao Paulo welcomes 14.9 million tourists per year to the city and has many award-wedding distinctions including the city with the fourth best nightlife in the world and some of the best restaurants in the world. Tourists visit the city to experience its art-house cinemas and experimental theatres, as well as its vibrant nightlife and incredible gastronomy scene. 86% of the tourists that visit Sao Paulo are Brazilian—especially from the countryside or the coast—while the other 14% are foreign tourists. The average stay of tourists in the city is about 3 days.
Almost a million students
The metropolitan region of Sao Paulo has many post-secondary institutions that attract a large student population. 847 thousand students are enrolled in colleges and universities throughout the city. 90% of these students are in private institutions, while the remaining 10% are in public ones. The city saw a massive growth in the amount of post-secondary institutions in the city since 2000. There are now 202 private institutions in the city and 20 public ones in the Sao Paulo metropolitan area; this represents a growth of 47% in the amount of post-secondary institutions.
Review Updated: July 8, 2020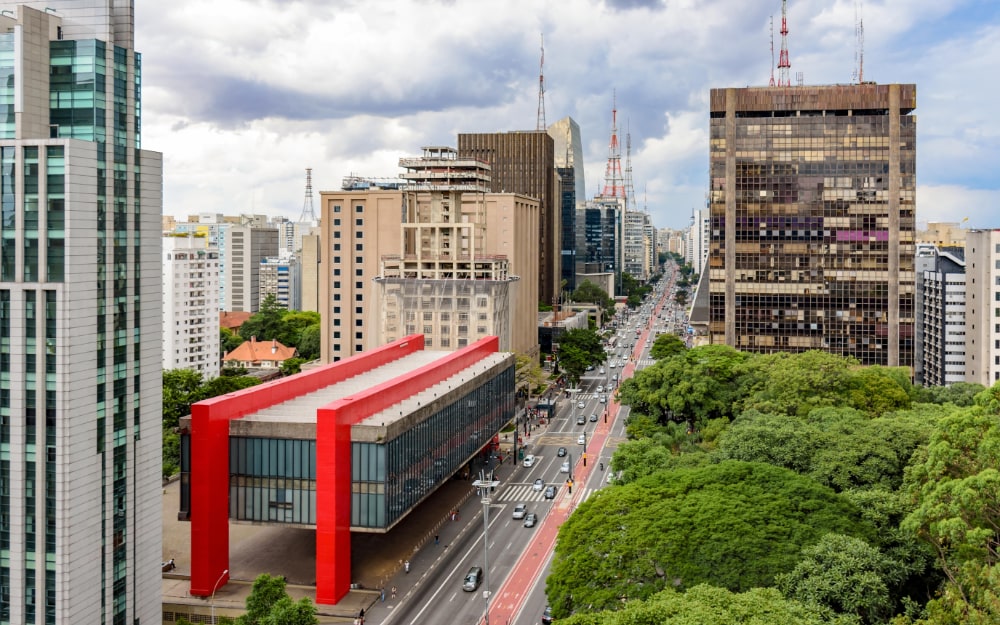 Paulista avenue, financial center of Sao Paulo
Sao Paulo Urban Area Population History
Sao Paulo Urban Area Population Projections
Map of Sao Paulo, Brazil
Other Biggest Cities in Brazil