Population in Urban Area, now
World:

8th

Asia:

5th

China:

2nd
Population in City Area, 2022-03-07
World:

2nd

Asia:

2nd

China:

2nd
Beijing Urban Area Population Graph
Beijing Population Review
Beijing is the second largest city in China with over 20 million people in the urban area. Since the 1950s, Beijing's population has steadily increased from just over 1,600,000 people to the 20-odd million people who call it home today. The city's meteoric population growth shows no sign of stopping, with experts predicting that over 25 million people will live in the city's urban area by 2034.
Located in northern China, Beijing officially has 16,801 square kilometres of land area. However, Beijing's densely populated urban area has only 3,937 square kilometers, which makes finding room for all its residents challenging. This is made all the more difficult by Beijing's outrageously priced homes, which are severely out of proportion with the income of the people who call it home. For example, an 80 square meter apartment is roughly US$310,000—that's around ¥2,198,396 in Chinese Yuan.
One of the most densely populated in China
With only Shanghai outranking it, Beijing is one of the most densely populated cities in the China. Almost 6,000 people live per square kilometer in Beijing. For comparison, population density in the People's Republic of China is only 150 people per square kilometer. That being said, Beijing and Shanghai both are under population controls implemented by the Chinese government in 2017, which has curtailed some of the city's astronomical growth.
Only 1.5% of Chinese population
Beijing may be an intensely populated city by most of the world's standards, but due to China's sheer size and staggering population, Beijing barely makes a ripple. In fact, the entire population of Beijing only amounts to about 1.5% of China's total population of 1.4 billion people. While Beijing may only be China's second most populated city, experts predict that the growth of Chinese cities in general will continue to balloon as the country's economic position strengthens. When Communism took force in 1949, only about 10% of China's people lived in urban areas. Now, about 51% live in cities.
A gateway city for tourism
When it comes to tourism, China is the fourth most visited country in the world. Each year, the country welcomes around 56.9 million international tourists, the vast majority of which arrive through one of the country's many airports. Beijing Capital International Airport is by far the largest airport in the country and is the second busiest airport in the world. Each year, Beijing Capital Airport sees 95.8 million passengers come and go on arriving and departing flights.
The city of Beijing itself is considered the number one gateway to and from China and has many direct flights or direct bullet trains leaving the city, making it an easy hub for visitors. Beijing is also the country's top tourist destination and contains several world-class sites, including access to the Great Wall of China and the Forbidden City. Beijing's other unique attraction for tourists and visitors is its new 144-hour, visa-free transit policy. Started in January of 2013, the 72-hour, visa-free policy allows visitors from 53 different countries to see the sites and sounds of the city without having to concern themselves with acquiring a visa. Most tourists to China come during May or October, considered the most beautiful and comfortable months of the year.
Interesting Facts about Beijing's population
Almost 80% of Beijing's population is working age. This is due mostly to Beijing's position as an economic powerhouse. It is believed that Beijing has been inhabited by modern humans for 27,000 years, and it is considered one of the oldest cities in the world with a rich history dating back 3,000 years. China's gender imbalance is one of the worst in the world, which means that Valentine's Day is quite lonely for many men in Beijing. In fact, men outnumber women by some 70 million in China.
Review Updated: July 8, 2020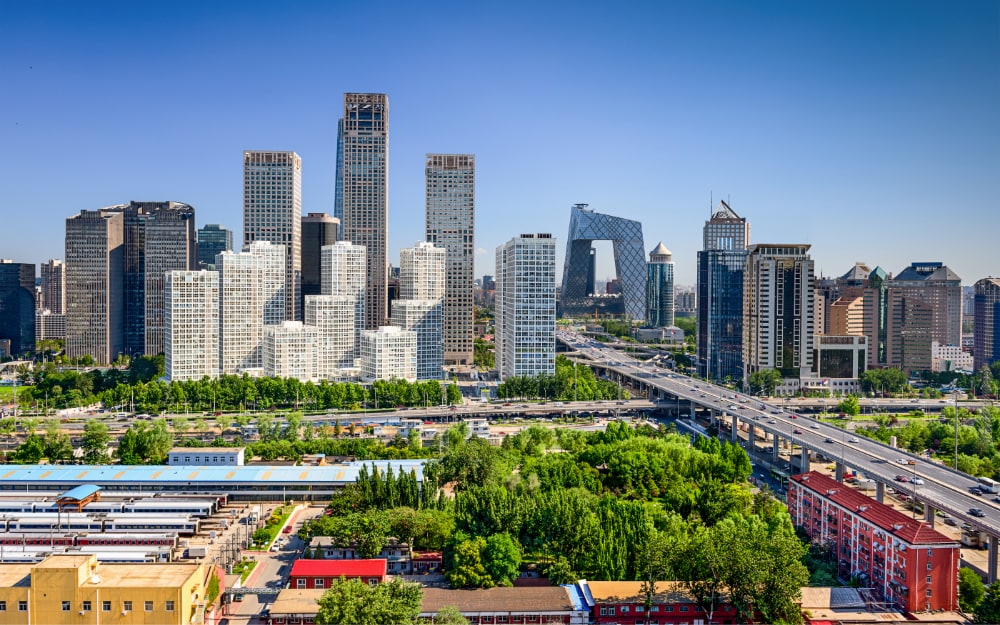 China FInancial District Skyline
Beijing Urban Area Population History
Beijing Urban Area Population Projections
Map of Beijing, China
Other Biggest Cities in China