Population in Urban Area, now
Population in City Area, 2019-09-19
Chongqing Urban Area Population Graph
Chongqing Population Review
One of the five central cities in China, Chongqing is the largest direct-controlled municipality in the country. The latest reports put the urban area's total population at 15.3 million people, with its city area boasting 7.4 million people. This massive city is located in southwestern China in the Sichuan province and shares borders with the Shaanxi, Hunan, and Guizhou provinces.
The population of Chongqing may already dwarf many other cities in the world, but it is still expected to continue to grow. By 2035, it's predicted there will be 20.5 people living in Chongqing's urban area. By comparison, the entire country of Guatemala only has around 17 million people.
A rapidly expanding city
Chongqing's growing population is not happening only by chance. It's directly related to the Chinese government's current "Go West" campaign. This campaign is based on the country's wish to build up interior cities, such as Chongqing, through business and infrastructure development. It seems to be working since the GDP of Chongqing has quadrupled since the late 1990s. While China's population has grown by an incredible 7.5% in the last decade, the city of Chongqing is facing some future issues.
An aging population
While many people see China's population as ever-growing (and it certainly has grown exponentially), Chongqing and China are facing a huge population crisis in the future. China's one-child policy combined with an aging population has meant that the country is facing an ever-shrinking workforce while their aging population balloons. By 2050, it's predicted that 1/3 of China's population will be over 60—and Chongqing is no different.
Chongqing also has the same gendered issue as most of China, in that they have too many men. Social pressures combined with modern medicine has meant that more boys than girls were born to mothers in China. This means that many men in Chongqing are unable to find partners.
A "foggy" city
If you visit Chongqing, you will notice the city's modern architecture and bustling streets, but what you may also see are surgical masks. Many people in Chongqing wear surgical masks when they leave their homes, but this is not for fashion. Unfortunately, China's booming industrial sector has contaminated the air with soot, carbon dioxide, and acid rain. This is worsened by the fact that Chongqing is a naturally foggy city. China's rapid industrialization is making it one of the most polluted countries on earth.
Review Updated: October 18, 2019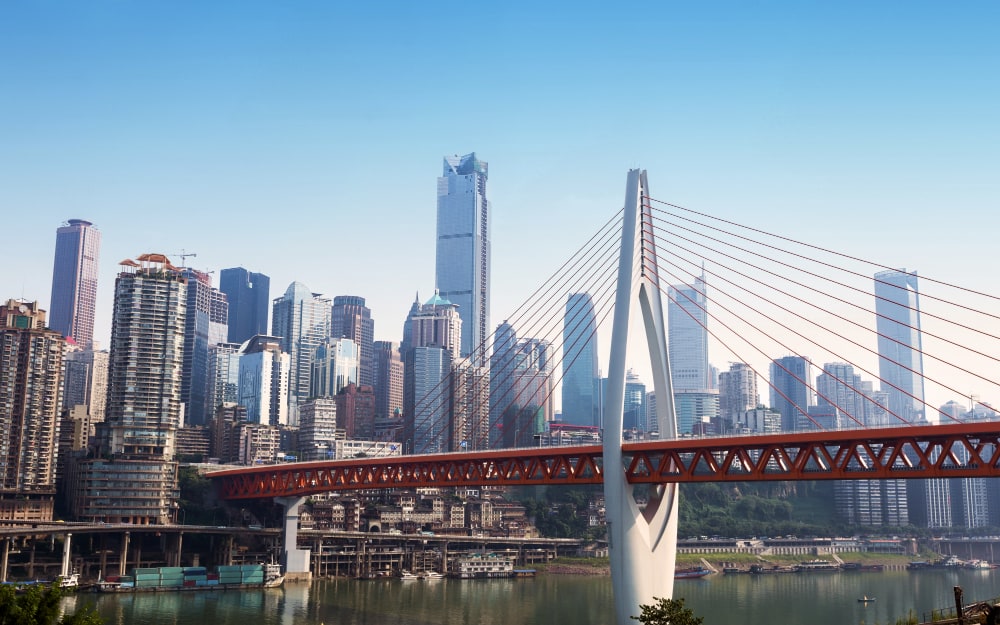 Panoramic skyline of Chongqing
Chongqing Urban Area Population History
Chongqing Urban Area Population Projections
Map of Chongqing, China
Other Biggest Cities in China