Population in Urban Area, now
Population in City Area, 2020-05-28
Shanghai Urban Area Population Graph
Shanghai Population Review
With 26 million people living in its urban area, Shanghai is the largest city in China, and the largest city in the world—and the city's population is only expected to grow. By 2035, Shanghai is predicted to have over 34 million people! That's quite the number, especially when you consider that the average life expectancy is 82-years-old.
Shanghai is an expansive city that stretches over 7,037 kilometers. The extraordinarily populated city has an average density of 2,059 people living per square kilometer. Things get even more crowded in the urban areas, with an incredible 3,854 people crammed into a kilometer.
Shanghai is extremely attractive to expats
Living and working in Shanghai is an attractive option to expats from around the world. An estimated 174,000 expats are residing in Shanghai, and 88,000 of those are foreign expats. The length of time foreign expats are staying in the city is rising as well, with a 3% increase of foreign expats still living in the city after a year since 2013.
Many of those expats get their first taste of Shanghai when they visit as tourists—of which there are a whopping 6 million per year! Tourists from 53 countries can also visit Shanghai with ease when they take advantage of the city's 144-Hour Visa-Free Transit.
Economic boom = population boom
Shanghai is an important financial, economic, trade, and shipping center for China. The city's population has grown steadily for decades. Since 1950, the population has grown by about a million inhabitants a year, with many of these people flocking to the city for its robust economic strength. The city is becoming a post-industrial economy, with its service sector accounting for 70% of the city's GDP. Shanghai has also been undergoing major industrial restructuring and development within its high-tech industries.
Shanghai is a high-tech city
Experts are predicting that Shanghai will become a technological hub to rival San Francisco by 2021. A huge base of digital media and entertainment companies now call the city home and Shanghai is looking to attract even more.
As the city looks to become a leader in science and technology efforts, its population becomes more and more interested in technology. There is an estimated 50% smartphone penetration rate among the city's population, and those smartphone users spend an average of 305 minutes on their devices each day. Time is split equally between chatting and listening to music.
Review Updated: September 26, 2019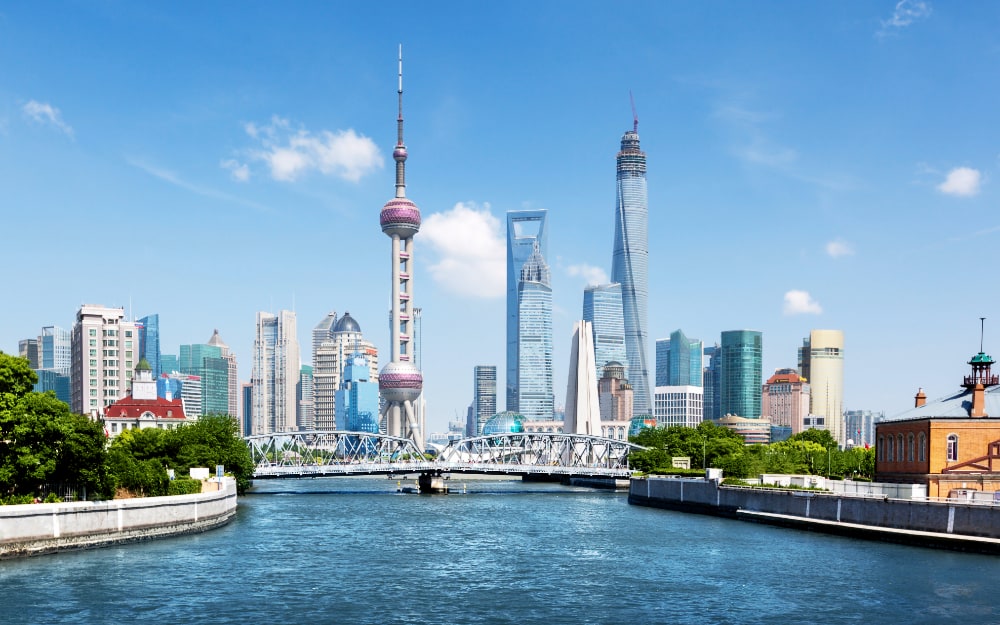 Shanghai skyline in sunny day
Shanghai Urban Area Population History
Shanghai Urban Area Population Projections
Map of Shanghai, China
Other Biggest Cities in China