Population in Urban Area, now
Population in City Area, mid 2020
Las Vegas Population Graphs
Las Vegas Population Review
The glittering lights of famous Las Vegas are deep in the desert of Nevada, USA. This internationally renowned gambling and partying destination has long been known as Sin City for its debaucherous adult delights, which included gambling, adult venues, prostitution, and the wide availability of alcohol. Las Vegas is the most populous city in Nevada with 2.6 million people in the Las Vegas Valley metropolitan area. Within the city itself, there are some 650,000 residents.
Las Vegas is a young city. Founded in 1905, the population has boomed in a relatively short amount of time. By 2005, Las Vegas' population had ballooned to 1.5 million residents. In ten more years, the population had jumped again to 2.2 million, and from there it's only expected to keep rising. Predictions show that the population of the Las Vegas Valley metropolitan area will reach 3.3 million people by 2035.
The Entertainment Capital of the World
Tourists and visitors come from wide and far to visit the city, with many considering a visit to the city a "bucket list" item. In 2017, there were 39 million tourists that visited Las Vegas, which amounts to over 100,000 people arriving every day, with the lightest month for tourism being December.
The Las Vegas tunnel people
There is a rarely heard of faction of Las Vegas' population that lives beneath the streets of the city. A labyrinth of flood tunnels beneath the glittering city is where some 1,000 people call home, eking out an existence. Many people living in the tunnels were forced there by bankruptcy, drug addictions, and evictions. The maze of tunnels has become home to a kind of community, with a graffiti-filled "art gallery", and even children living in the tunnels. But this is not to say the flood tunnels are a safe or comfortable home. Several documentaries have even been made about the tunnel people.
While not everyone is there to gamble, almost everyone does
Las Vegas' is not just the city for partiers and gamblers anymore. The city has started to change its identity to attract more families and senior citizens, and it is also a popular location for conventions. But even if only 15% of visitors to the city come specifically to gamble, statistics show that 71% will gamble during their time in the city. With somewhere close to 200,000 slot machines in the city, it's hard not to gamble during a visit there.
Review Updated: November 2, 2019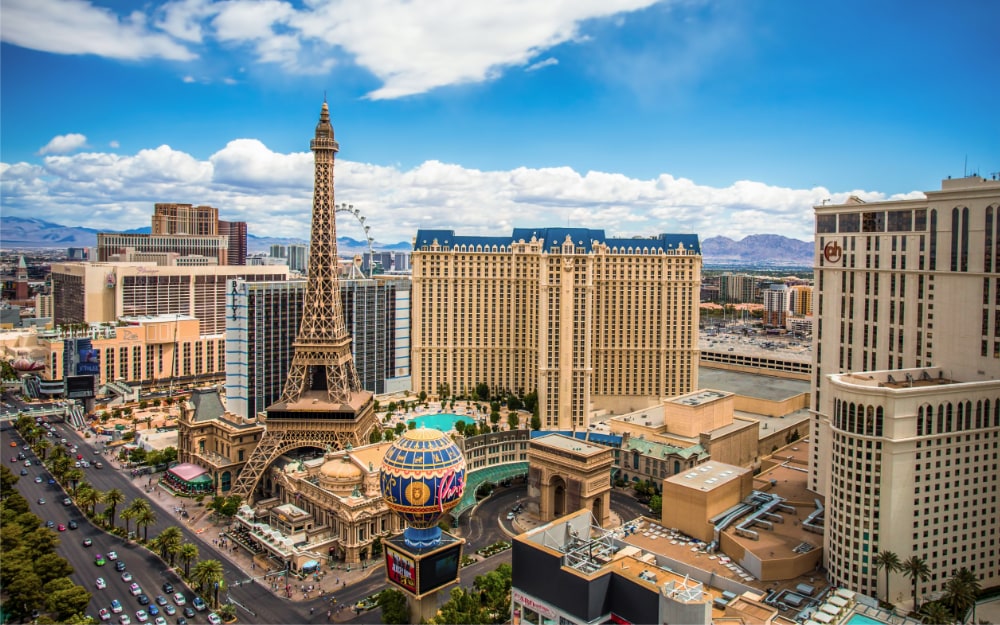 Las Vegas Strip in Nevada on a sunny day
Las Vegas Urban Area Population History
Las Vegas Urban Area Population Projections
City Area Population Estimate & Projections
Map of Las Vegas, United States
Other Biggest Cities in the United States