Population in Urban Area, now
Population in City Area, mid 2020
Seattle Population Graphs
Seattle Population Review
Seattle is a relatively small city located in the state of Washington on Puget Sound with 760,000 people living in the city area. While not massive compared to many other cities across the United States or the globe, Seattle is still the largest city in the Pacific Northwest region of the USA and has one of the fastest-growing county populations in the country! Seattle is part of the Seattle Metropolitan area, a 15,000 sq. kilometer expanse that includes Seattle and the neighboring suburbs, which has 3.4 million residents in total.
Seattle is projected to continue growing steadily, with an estimate that 3.9 million people will live in the urban area by 2035. Considering Seattle started with only 1,150 people in 1870, this isn't too shabby for population growth.
The fastest-growing city of the decade
While Seattle may not be a metropolitan behemoth, that hasn't stopped it from becoming one of the fastest-growing cities in the United States in the past ten years. After another year of remarkable growth in 2017, the US Census Bureau found that Seattle's population had grown by an impressive 18.7% since 2010. This is the fastest growth rate among the 50 largest cities in the United States. Seattle is also one of the cities with the highest population density in the country. Whether this is because of Seattle's growing appeal or because of its tight quarters hemmed in by water on both sides, the city had 2,799 people per square kilometer in 2017.
Predominantly white
Seattle remains a city with not much ethnic diversity. Almost 70% of the city's population identifies as white and 78.9% of the population speak only English at home. The city's second-largest ethnic population is Asian, with 13.8% of residents identifying as either Chinese, Filipino, Vietnamese, Japanese, Korean, or of some other Asian descent. This foreign-born population grew 40% from 1990 to the 2000 census but is still only a minuscule portion of the population.
Accommodating a booming population
All that population growth has meant that Seattleites have been feeling the squeeze when it comes to finding homes. The majority of the urban area consists of single-family housing zoning, which developers have been pushing to have changed. This has caused controversy in the city, with many residents wanting to hold onto the single-family housing zoning. The Seattle City Council relaxed height restrictions on buildings in 2006, which cleared the way for out-of-town developers to start putting up high-rise accommodations for the city's ever-expanding population.
Review Updated: October 18, 2019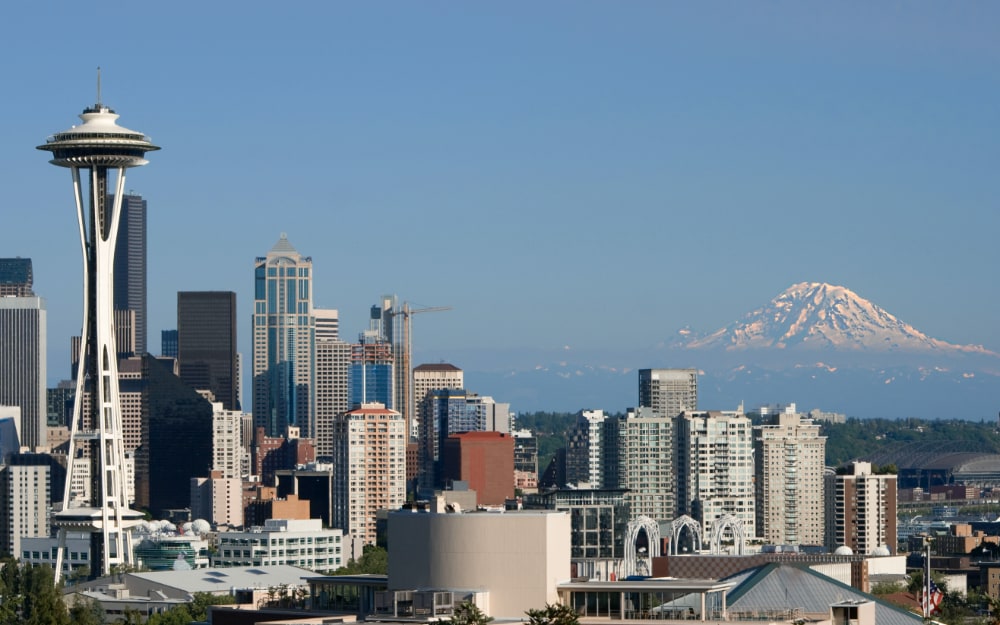 Seattle Skyline
Seattle Urban Area Population History
Seattle Urban Area Population Projections
City Area Population Estimate & Projections
Map of Seattle, United States
Other Biggest Cities in the United States