Population in Urban Area, now
Population in City Area, mid 2020
Atlanta Population Graphs
Atlanta Population Review
Welcome to the bright and bustling city of Atlanta, the capital of the state of Georgia, one of the biggest cities in the Southern United States, and a culturally significant location for the Civil War. Atlanta is home to 500,000 people who live in just over 500 square-kilometres. However, the Atlanta Metropolitan Area has almost 5.7 million residents and projections show the population almost 7 million in just 15 short years. The city's population density is still quite approachable though, with only 234 people per square kilometre.
With the 10th largest economy in the nation that brings in $276 billion per year, Atlanta's growth is no fluke. The highly multi-cultural and welcoming city has a hugely successful entertainment and hospitality sector that continues to grow to welcome all of Atlanta's new residents and its yearly 50 million visitors. One fun fact about Atlanta you may not know? The city has 55 streets and roads called Peachtree!
One of the highest LGBT populations per capita
When people think of a safe and welcoming city for members of the LGBT community, it's not often their minds go to the southern United States. However, Atlanta has long been a city with a bustling LGBT community and a very progressive view. Atlanta has a perfect score of 100 on HRC's 2018 Municipal Equality Index, which rates towns and cities on how LGBT-inclusive their laws, policies and services are. In fact, 4.2% of Atlanta's population identify as LGBT. Atlanta is home to the national headquarters of the LGBT South.
A "black mecca"
In Atlanta, Black Americans make up the largest racial minority in the city with 34% of the population identifying as black. The city has long been regarded as a "black mecca" in the United States for its position as a hub of black education, culture, political power, and wealth. While the city is still a stronghold for the black community, the disbursement of the city's black population shifted dramatically between 2000 and 2010 when many black families moved to the suburban areas outside the city. Over half a million African Americans moved outside the metro area to settle in areas like Gwinnett County, Fulton, and Cobb.
The "Hollywood of the South"
Much of Georgia's booming economy and bustling tourism scene owes its success to the city's status of the Hollywood of the South. More than 100,000 people in Georgia are employed in Georgia's movie industry. Hugely popular TV shows and movies such as The Walking Dead, Black Panther, Avengers: Infinity War and Ant-Man and the Wasp were all filmed in and around Georgia.
Review Updated: November 2, 2019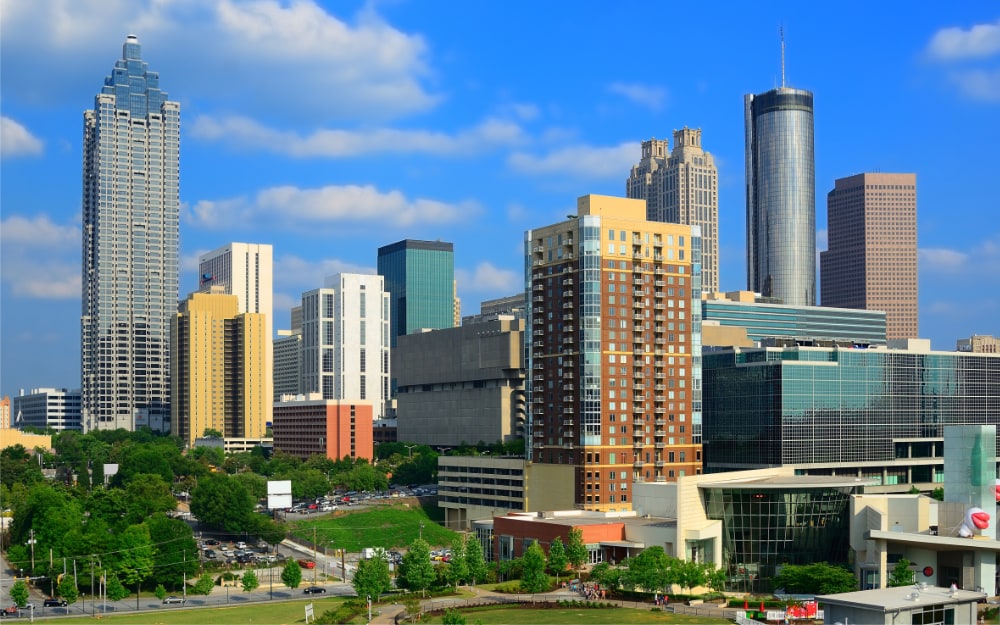 Atlanta Skyline
Atlanta Urban Area Population History
Atlanta Urban Area Population Projections
City Area Population Estimate & Projections
Map of Atlanta, United States
Other Biggest Cities in the United States