Population in Urban Area, now
Population in City Area, mid 2020
Chicago Population Graphs
Chicago Population Review
On the shores of Lake Michigan sits Chicago, the third-largest city in the United States. Famous for its architecture and museums, Chicago is an economic powerhouse with an ever-growing population. Nicknamed the "Windy City", Chicago has been home to droves of celebrities, authors, Nobel laureates and Fields medalists—as well as some very infamous crime bosses. The population in the city area in mid-2019 surpassed 2.5 million, making Chicago one of the United States' most populous cities.
Chicago is part of the wider Chicago-Joliet-Naperville Metropolitan Area, a 20,000 sq. kilometer expanse with almost 9 million residents. Also called Chicagoland, this urban area is predicted to continue steadily growing with statistics forecasting over 9.8 million residents by 2035. Chicago has shown steady growth since 1950 when the urban area had just under 5 million people calling the area home.
A boomtown from the beginning
Founded in 1833, Chicago's population boomed almost immediately. By the time of its first census, Chicago had 4,000 residents. This was nothing to scoff at in 1833. In comparison, New York City, which was founded in 1624, only had about 200,000 people living in it by the 1830s. Chicago continued to grow at an exponential rate and by 1890, the census calculated over a million people living in Chicago. Wave after wave of immigration continued to balloon the population until it evened out in the 1950s.
Demographics in the city
Chicago has a checkered past when it comes to racial diversity. Most of the city's white population lives in the Northern part of the city, while its black population lives in the South. This distribution has much to do with Chicago's previously racist housing allocation policy that forced the city's black population to reside in the cheaper, less sought-after section of the city: Chicago's South Side. Historical data has also shown that many of the people leaving the city's core for the suburban neighborhoods are from Chicago's affluent white population. The population of non-Hispanic whites within the city has fallen from 59% in 1970, to 31% in 2010, and continuing to fall.
A city of music
Many of Chicago's residents (past and present) were renowned musicians. The city is considered the birthplace of genres of music like gospel, electric blues, juke, footwork, and house music. To this day, Chicago is a city that builds much of its identity around music with 250 live music venues and 74 music festivals, all generously attended by residents and visitors alike. Some of Chicago's most famed musicians include Louis Armstrong, Kanye West, Muddy Waters, Smashing Pumpkins, Jennifer Hudson, and Earth, Wind & Fire.
Review Updated: October 18, 2019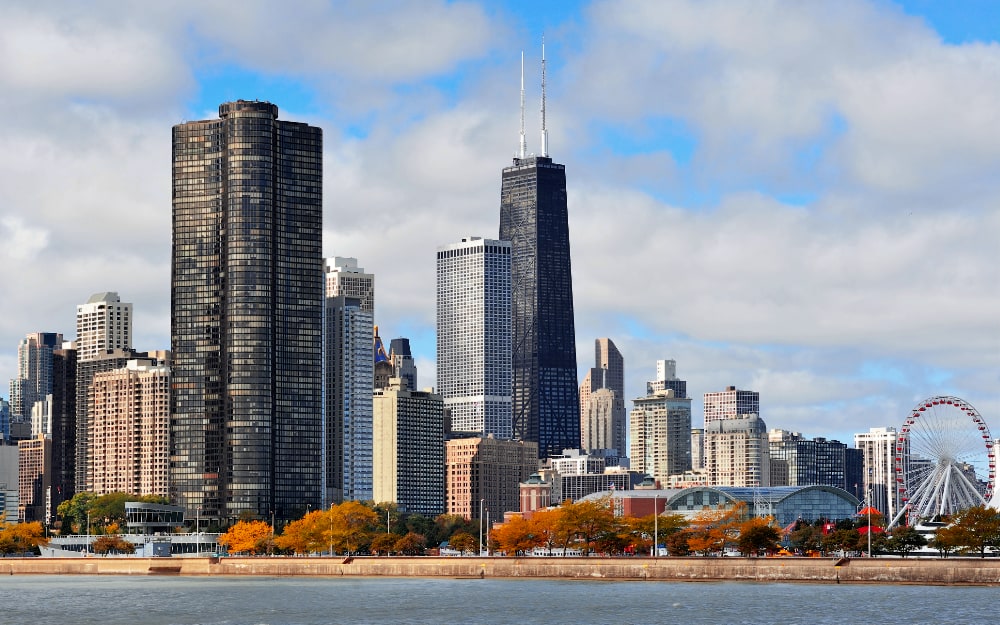 Chicago city urban skyline
Chicago Urban Area Population History
Chicago Urban Area Population Projections
City Area Population Estimate & Projections
Map of Chicago, United States
Other Biggest Cities in the United States