Population in Urban Area, now
World:

62nd

North America:

7th

Canada:

1st
Population in City Area, 2019-09-05
World:

107th

North America:

2nd

Canada:

1st
Toronto Urban Area Population Graph
Toronto Population Review
Toronto is Canada's most populated city and is located on the shores of Lake Ontario in the province of Ontario. With 6.2 million people living in the urban area, Toronto has almost double the population of Canad's next most populated city, Montreal. Experts predict that by 2035, the city's population will have gained another 1 million residents.
For the most part, Canada is a sparsely populated nation. As a whole, Canada has a population density of just 4 people per square kilometer. Compare that to Toronto's population density of 4,195 people per square kilometer and you'll see why the city of 2.6 million is easily the largest and most densely populated in the country. Toronto is also the fifth-largest city in North America, after Mexico City, New York, Los Angeles, and Chicago.
An ethnically diverse city
Toronto is a very ethnically diverse city with a healthy population of immigrants. Nearly half the population of Toronto is foreign-born, with 50% of the population identifies as white, while the rest identify as East Indian, South Asian, Black, Southeast Asian, Latin American, West Asian, and Arab. Reflecting this diverse population, Toronto has many ethnic neighborhoods where immigrant populations find comfort and familiarity; this includes neighborhoods like Little India, Greektown, Little Italy, Chinatown, Little Portugal, and Little Jamaica. Immigration to the city continues to grow and the Greater Toronto Area actually takes in a much higher per capita proportion of immigrants on an annual basis than any major city in the neighboring United States. In 2019 alone, the city welcomed 117,000 new immigrants to the city, boosting the overall population by 1.9 per cent.
25% of the population
Canada has a total population of 37 million people, and 25% of those people live within a 160-kilometer radius of the city of Toronto. This massive population means that the demand for real estate in Toronto is very high. The Toronto housing market is currently considered to be in crisis, with real estate extremely overpriced and hard to find. This is partially due to the low supply of homes and to the growth of the city's population, which is the fastest-growing in the country. Listings in Toronto show that the average price of homes sold in the city has risen to over $1 million. When compared to other large, populous cities in the country, it's clear that the Toronto housing market is in a league of its own, with nearby Montreal's average home price hovering just around $385,000. Unfortunately, the city's inflated real estate market means that buying a home is out of reach for many young people in the city, who are relegated to renting or to moving outside the city if they would like to purchase a home.
Hollywood North
When people think of the glitz and glamor of the movie industry, they rarely think of Toronto. However, 25% of Hollywood movies are actually filmed in Toronto, either on set or in the streets. The city earned the nickname in the 1970s when its role as a production center for both international and domestic films was solidified. The film industry in Toronto employs 28,000 people and brings in about $1.5 billion per year. Toronto's draw for movie producers is all in the money. The exchange rate between the Canadian loonie and the American dollar means that film companies always save money. Canada also makes an effort to appeal to Hollywood studios by offering lucrative tax breaks. It ranks as the largest film and television production center in Canada, and is third overall in North America, behind California and New York.
Toronto's economic power
Toronto ranks as one of the world's most business competitive global cities. It is the twelfth most economically powerful city in the world and attracts many international businesses with its lucrative incentives including being ranked first in corporate and digital tax rates. Toronto is the largest contributor to Canada's economy at 20% of the GDP. This robust economy correlates directly with the city's healthy employment rates. From 2018 to 2019, the city added over 46,000 jobs, a 3.1% growth in one year. There were also 920 new establishments to the city and 3,180 new businesses opened in 2019. Toronto's Downtown and Centres areas had 666,980 jobs in 2019, which equates to about 42.5 per cent of all employment in the city. In total, the city has a labor force of 4.7 million people.
Review Updated: July 8, 2020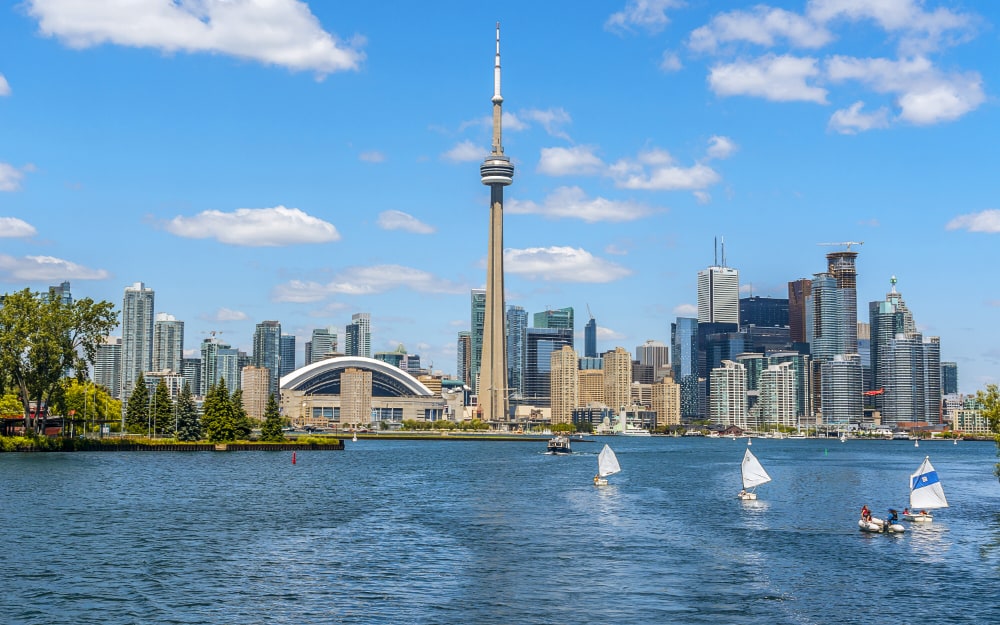 Toronto's skyline with CN Tower over lake
Toronto Urban Area Population History
Toronto Urban Area Population Projections
Map of Toronto, Canada
All Biggest Cities in Canada