Population in Urban Area, now
Population in City Area, 2019-09-05
Seoul Urban Area Population Graph
Seoul Population Review
The massive metropolis of Seoul is a mixture of traditional South Korean culture and modern pop culture. A fascination mishmash of ancient Buddhist temples and futuristic plazas, Seoul continues to attract visitors and new residents in droves. As of 2019, over 9 million people live in the city's urban area, with 25 million people calling the sprawling metropolitan area home—making it the fifth most populated city in the globe.
The capital and largest city in South Korea, Seoul is located on the northwest part of South Korea along the Han River. Seoul's massive growth and globalization is even more surprising, since the city isolated itself for hundreds of years and only opened its door to foreigners and global influence in the late 19th century.
The Miracle on the Han River
The "Miracle on the Han River" is a phrase that refers to South Korea's astounding economic growth that took it from an impoverished country to the economic giant it is today. By the end of the 20th century, the country was among the largest economies in the world and was inducted into the G20 in 2010. This has affected Seoul quite a bit, since 50% of the country's entire population lives in the city.
A small but growing international population
Seoul has a very homogenous population and the majority of people living in Seoul are Korean. However, the South Korean government has continued to strive to attract foreign residents and tourists to Seoul—but the population of foreigners that call the city home is still quite small. Out of a city of 9 million, only about 280,000 people identify as foreign residents. 66% of this foreign population is Chinese citizens of Korean ancestry.
The most densely populated in the world
Seoul's meteoric economic and population growth has meant that there are a lot of people living in close quarters. While this is common for any major city, Seoul wins the prize for the highest population density in the world. There are 17,000 people per square kilometer in Seoul, which is twice that of New York City, four times higher than that of Los Angeles, and eight times that of Rome—and all of these people are packed into 600-square kilometers. Of course, this many people in such a small area is the perfect recipe for a housing issue, which Seoul is currently going through. Demand is outstripping supply in the city on the Han River, and experts predict it will only get worse with the population expected to reach 10.2 million people by 2035.
Review Updated: September 26, 2019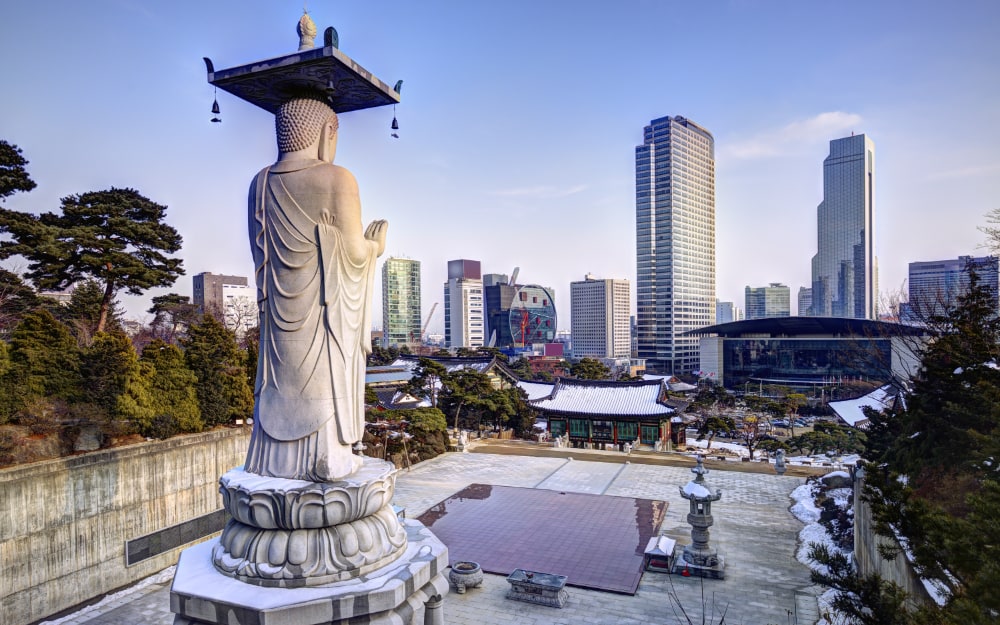 Seoul Skyline
Seoul Urban Area Population History
Seoul Urban Area Population Projections
Map of Seoul, South Korea
All Biggest Cities in South Korea