Population in Urban Area, now
Population in City Area, 2019-07-26
Rome Urban Area Population Graph
Rome Population Review
The powerful and ancient city of Rome has a rich, globally influenced past and is full of historically significant monuments. Founded sometime around 700 BC, this Italian city was once the heart of the powerful Roman Empire. Over the years, Rome has evolved into a cosmopolitan city known for its architecture, gourmet food, and stunning landscapes, which is probably why 4.2 million people choose to live in the city's entire urban area.
One of the most famous cities in the world, Rome's past continues to influence our present. The Roman Empire gave us such things as modern-day plumbing, newspapers, subsidized programs, and even roads! This 2500-year-old city is located 4,336 m above sea level and sprawls over 1200 square kilometers of land.
A tourist hotspot
The capital of Italy is one of the most visited tourist destinations in the world. Each year, Rome opens its doors to 9.6 million international tourists, with most of these tourists looking to visit the Vatican Museums and the ancient Colosseum. Each location receives between 4 and 4.2 million visitors per year, making them the 37th and 39th most visited tourist destination (respectively). Other popular spots in Rome include the Pantheon, St Peter's Basilica, and the Trevi Fountain (and many, many more). This influx of tourists and their money means that tourism is one of Rome's many economies.
Once the largest city in the world
As the center of the Roman Empire, Rome once held the title of the largest city in the entire world. During the reign of Emperor Augustus, Rome had about a million residents. This may not seem like much by today's standards, but consider that Emperor Augustus started his reign in 31 BC when most of the world as we know it didn't even exist, and that number seems a lot more impressive.
The historical center of Rome is quite small
Don't be misled into thinking that most of Rome's 2.3 million residents open their curtains each morning to views of ancient architecture. In fact, the historical district of the city only takes up 4% of the city's area. Rome is divided into several districts, including the Modern Center where most of the hotels, shopping, and dining are located, the Historic Quarter, The Vatican, The Colosseum, the North Center, and more. Most of Rome's population lives in the more affordable South, North, and Ostia outskirts—the suburbs.
Review Updated: October 18, 2019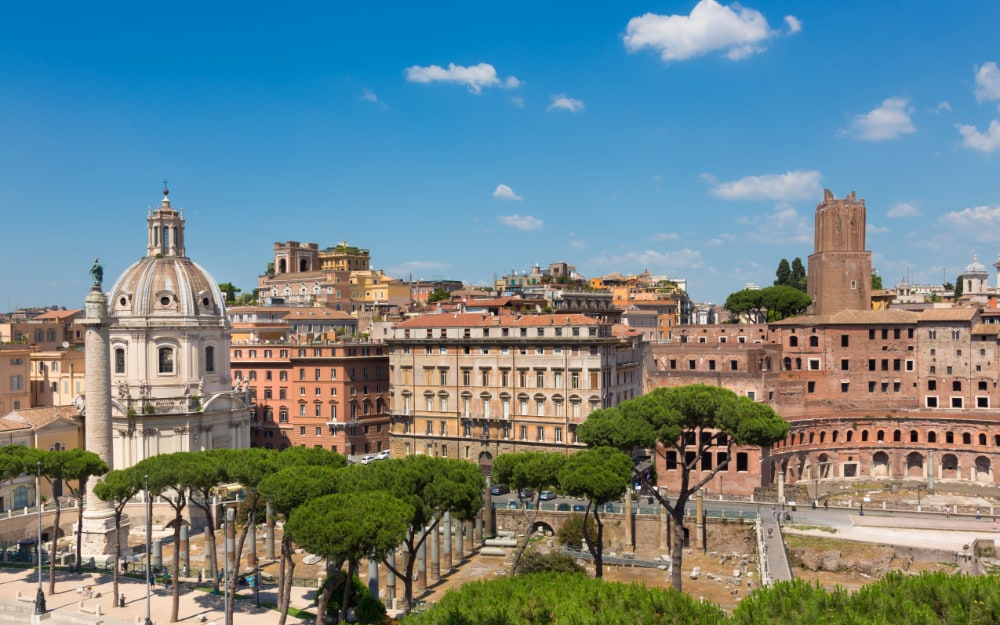 Panoramic view of Imperial Forums in Rome
Rome Urban Area Population History
Rome Urban Area Population Projections
Map of Rome, Italy
Other Biggest Cities in Italy