Population in Urban Area, now
World:

487th

Europe:

46th

Netherlands:

1st
Population in City Area, 2020-06-01
World:

409th

Europe:

50th

Netherlands:

1st
Amsterdam Urban Area Population Graph
Amsterdam Population Review
The nominal capital of the Netherlands, Amsterdam is the country's largest and most visited city. The city of Amsterdam is home to 741,000 people, with 1.1 million living in the urban area. Amsterdam is located in the North Holland province and originally started its existence as a small fishing village in the 13th century.
The picturesque city is known for its canals (of which it has 165), its architecture, its live-and-let-live attitude, rich history, and it's laidback attitude towards cannabis. It is also an extremely popular tourist destination that continues to attract people from around the world.
A city of bicycles
Amsterdam is an incredibly bicycle-friendly city and is seen as one of the most important centers of bicycle culture in the world. Their convenience, the city's small size, and its 400 kilometers of bike paths make it an ideal location for bicycling. There are over 1 million bicycles in the city and it's typical for both tourists and locals to get around the city on bicycle. There are over 490,000 cyclists that bike 2 million kilometers every day. However, Amsterdam is not a bicycling paradise for all. 44% of people who bike regularly in the city feel unsafe doing so, and the city has a relatively high number of cyclist fatalities every year.
The red light district
Amsterdam is famous for its frank way of dealing with sex work and its red light district has become world famous for it. The city's tolerant view towards sex work has attracted many sex works and tourists to the city. There are 330 brothel windows in the red light district and 25,000 sex workers, 5% of which are men. But the future of the red light district has become uncertain. Raucous tourists flooding the red light district to stare or photograph the workers (without permission) have pushed out many of the locals and made the sex workers unsafe and uncomfortable. Amsterdam has banned guided tours of the red-light district in an attempt to limit tourists from going there.
A tourism hotspot
About 14 million tourists visit Amsterdam each year, with 4.5 million of those tourists being Dutch and 9.5 million as foreign visitors. For a city of 741,000, that's quite the influx! Tourists visit Amsterdam to see the Van Gogh Museum, Anne Frank's house, the Rijksmuseum, and the marijuana cafes that dot the city. They also come for the red light district.
Review Updated: November 2, 2019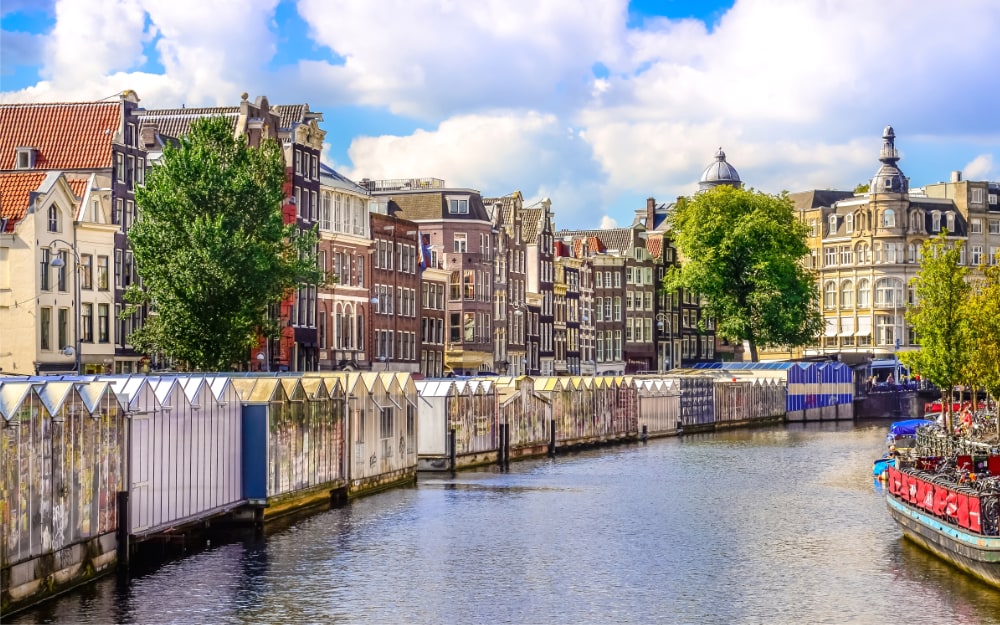 Scenic view of canal in Amsterdam at flower market
Amsterdam Urban Area Population History
Amsterdam Urban Area Population Projections
Map of Amsterdam, Netherlands
All Biggest Cities in Netherlands