Population in Urban Area, now
World:

461st

Europe:

41st

Ireland:

1st
Population in City Area, 2022-03-09
World:

351st

Europe:

36th

Ireland:

1st
Dublin Urban Area Population Graph
Dublin Population Review
Dublin is the capital of Ireland and located in province of Leinster on the country's eastern coast and spread out over 318 square kilometres. The city has a rich and fascinating history that dates back to the ninth century when it was founded by the Vikings. The city's name has evolved over the years, but it was originally called Dubh Linn, which meant 'black pool'.
Building on this colorful past, Dublin is now a bustling city with an estimated 1 million people living in the city and 1.2 million living in the contiguous urban area, which includes South Dublin, Fingal, and Dun Laoghaire-Rathdown, which combined make the Dublin Region.
A youthful city
Dublin is an exciting and progressive city, and much of that has to do the age of its population. Around 49% of Dublin's population is under the age of 30, making Dublin one of the youngest capital cities in Europe. This young workforce helps boost Dublin's GDP, which accounts for 40% of Ireland's GDP, and also supplements the city's higher education. There are four universities in Dublin and the city was the European Capital of Science in 2012.
A catholic city
For anyone familiar with Ireland, it may come as no surprise that 75% of the city's inhabitants identify as Catholic. The Catholic Church has long held a position of power in the country and legal secularisation only took place late in the twentieth century. Most of the schools in the city are run by Catholic entities but funded by the government. That being said, Dublin's young population is spearheading a general trend of secularism that is changing the face of the city. Church attendance has continued to drop in Dublin, with only 35% of weekly church attendance among Irish Catholics in 2016. This is down from 91% attendance in 1972.
25% of the country's population
While Dublin is the third-smallest county in the country of Ireland, its population account for a third of the country's population. Ireland has only 4.9 million people living there, which goes to show why Dublin's 1.2 million inhabitants accounts for almost 25% of the country's population. Dublin's population is only predicted to continue to grow as people flood into the city from rural areas for employment and education. By 2035, Dublin's population is predicted to surpass 1.4 million people.
A city of economic potential
Dublin accounts for almost half of Ireland's GDP and represents 40% of the state's total GVA. The Greater Dublin Area generates 58% of Ireland's personal income tax revenue, while Dublin alone generates almost 51% of that. Needless to say, Dublin's economic importance for Ireland cannot be overstated. The city has been ranked as the second most attractive city for foreign direct investment by the Financial Times, and the second-most popular city for economic potential and business friendliness. Many large companies already call the city home, with five of the top ten companies on Forbes' list of The World's Most Innovative Companies already having operations in Dublin.
Tourism to Dublin
Dublin is famous for its cultural heritage and hospitality. The city is a UNESCO City of Literature and has multiple tourist attractions (including three of the five most popular tourist attractions in Ireland), a good nightlife, famous pubs, and gourmet restaurants. Because of this, the city attracts 5.9 million overseas visitors. Dublin has the highest hotel occupancy rate in Europe and, on average, 500,000 people travel within Dublin City Centre every day. Air traffic at the Dublin Airport was up 6% in 2019, with more than 19 million passengers every year.
Review Updated: July 9, 2020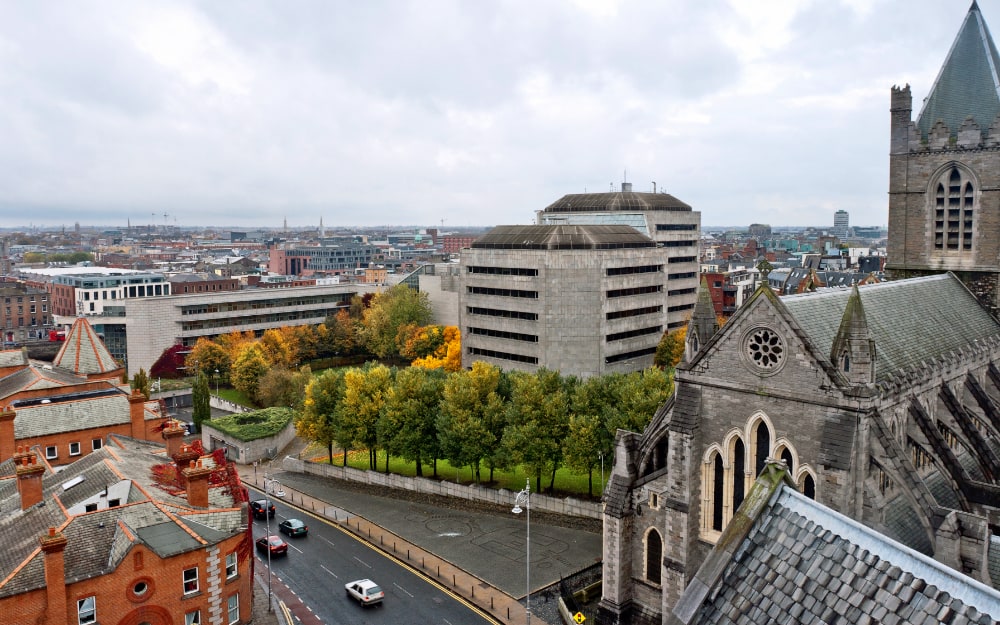 Cityscape of Dublin
Dublin Urban Area Population History
Dublin Urban Area Population Projections
Map of Dublin, Ireland
All Biggest Cities in Ireland