Population in Urban Area, now
World:

74th

Europe:

5th

Spain:

2nd
Population in City Area, 2022-03-09
World:

180th

Europe:

15th

Spain:

2nd
Barcelona Urban Area Population Graph
Barcelona Population Review
The city of Barcelona is the capital of the autonomous community of Catalonia of Spain and it is the second-largest city in Spain with a population of 1.7 million within the administrative limits. Barcelona's urban area has a much larger population of 5.6 million sprawled over 101 square kilometers. The city's urban population makes it the sixth most populous in the EU. The city is also the largest on the Mediterranean Sea.
Barcelona is a unique and architecturally stunning city and the only city in the world that was awarded a Royal Gold Medal for architecture by the Royal Institute of British Architects. Immediately recognizable from above, Barcelona's unique layout and design has meant that it continues to attract tourists, students, and new residents to this beautiful (and ancient) city. Experts predict that Barcelona's population will reach 5.8 million in the greater urban area by 2035.
One of Europe's most densely populated cities
Barcelona's population is packed into a relatively small city, which means that it has a high population density. There is about 16,000 people per square kilometer in Barcelona, making it one of Europe's most densely populated cities. There are a couple neighborhoods where the population density is even higher, such as Eixample, where there are 36,000 people per square kilometer, and the La Sagrada Familia neighborhood, with 50,000 people per square kilometer.
Home to the busiest pedestrian street in Spain
Cars inundate many major cities, but Barcelona is hoping to change that. Urban planning for the city shows multiple mixed-use spaces and car-free zones. Perhaps this also helps contribute to the fact that Barcelona has the busiest pedestrian street in all of Spain. Located in Barcelona's Old Town (Ciutat Vella) the shopping mecca of Portal de l'Àngel sees 150,000 people walking it on a daily basis. That being said, don't go expecting to find deals. Portal de l'Àngel is also the most expensive street in the city.
Religious makeup of Barcelona
The most widely practiced religion in Barcelona is Catholicism. However, like with most Spanish and Western European trends, secularization is strong. Forty-nine percent of Barcelonans identify as Christian, with the younger population (aged between 14 and 25) dropping a bit with only 45%. Most of these people identify as Catholic, after this, the largest religion is Islam, with 9.6% of the population. There are 264 mosques or Muslim places of worship in Barcelona and 70,000 Muslim pupils in the province. The city also has the largest Jewish community in Spain, with an estimated 3,500 residents.
People flowing in and out
Barcelona's demographics fluctuate heavily between night and day, and between weekdays and weekends. This is directly related to how many residents from the metro area or broader Catalonia commute daily in and out of the city for work or schooling. On average, the city sees around 250,000 commuters into the city and then about 220,000 commuters out of the city. These demographics are also affected by the popularity of Barcelona as a tourist destination.
A tourist hotspot
Barcelona welcomes nearly 9 million tourists every year and is one of the most popular city destinations in Europe. International tourists in Barcelona help bolster the city's economy, contributing $8.9 billion USD in spending to the city. Tourists get to the city in a variety of ways, with 76% arriving by plane, train, and bus. However, Barcelona's harbor welcomes the most passengers in Europe and actually ranks fourth in the world. Most of these tourists come to visit one of Barcelona's most dramatic architectural wonders: the Sagrada Familia.
Review Updated: July 9, 2020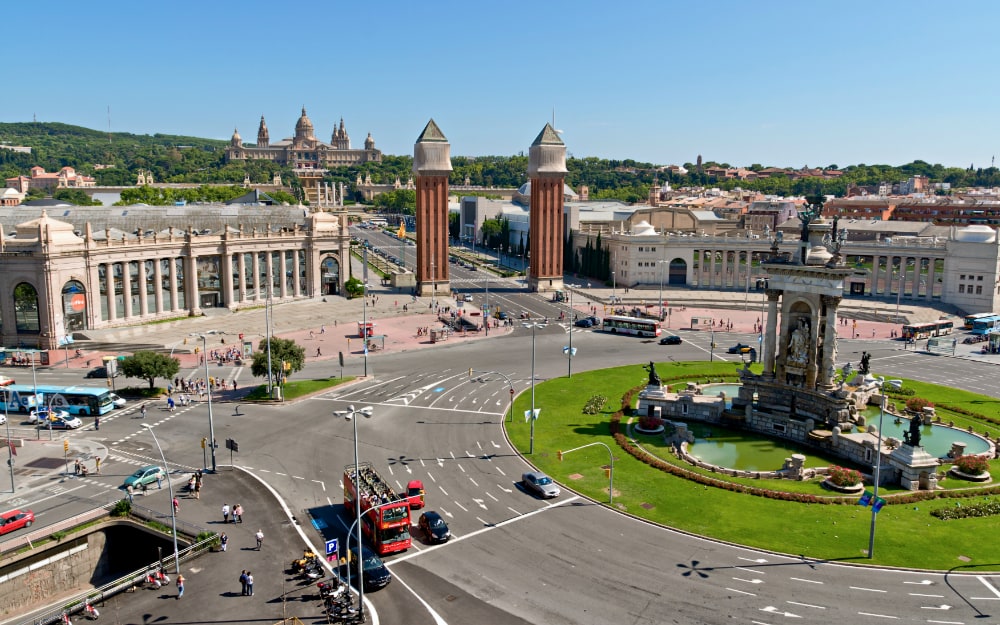 Plaza Espana in Barcelona and National Palace
Barcelona Urban Area Population History
Barcelona Urban Area Population Projections
Map of Barcelona, Spain
All Biggest Cities in Spain