Population in Urban Area, now
World:

159th

Europe:

9th

Greece:

1st
Population in City Area, 2022-03-07
World:

564th

Europe:

61st

Greece:

1st
Athens Urban Area Population Graph
Athens Population Review
Athens is the capital of Greece, the largest city in the country, and one of the world's oldest cities overall. It has a rich history that goes back over 3,400 years and is considered the cradle of Western democracy. Today, the city of Athens has 3.1 million residents in its urban area and is a modern metropolis that serves as a political, cultural and financial center for the country of Greece.
Athens is a densely populated city with 17,040 people per square kilometer in the Greater Athens area. In the past several decades, Athens population at a steady rate—going from 1.3 million people in Greater Athens to the current 3.1 million that live there today. Experts predict that this slow growth will continue, stagnate, or even start to drop as time goes on due to Greece's aging population and the weak economy. Population predictions put the number of people living in the city by 2035 at only 3,169,000.
A huge attraction for tourists
Athens' tourism rate is currently booming. In 2013, Athens only had 2.5 million tourists that visited the ancient city. That grew to a record-breaking 5.5 million in 2018. Tourists come to see the ancient architecture and UNESCO World Heritage Sites, like the Acropolis of Athens, and to visit its beautiful coastline and surrounding landscape.
On average, one in six visitors to Greece will spend at least one night in Athens. The amount of tourists expected to visit the city in the future is predicted to rise as well since tourists are now visiting Athens in the autumn and winter months as well. The city is well prepared to meet rising demands, with the City of Athens offering more than half of the total room capacity of the entire region of Attica. In 2011, 2.5 million tourists checked in to hotels in Athens, which equalled 5.3 million overnight stays, which was approximately 77% of the total amount of tourist nights spent in the region of Attica, with the average length of stay being about 2 days. Cruise ships are also playing into the tourism factor quite a bit, with cruise ship dockings and passengers up significantly from earlier years.
A homogenous population
Most of Greece has a homogenous population and Athens is no different. 93% of the population of Athens is Greek, with a small percentage of Albanians, Bangladeshi, Bulgarians, and Pakistanis. The Jewish community in Athens is small, but has a very long history in the area, though 87% (or about 70,000 people) of the Greek Jewish community were killed during the Holocaust. There is also a population of Romani scattered throughout Greece, with a larger concentration in Athens. The main religious minority in Athens are actually Muslims, with most of them praying in over 100 makeshift mosques throughout the city. There are 700,000 people identifying as Muslim living in the area of Attica (the area that encompasses Athens) and 5.3% of the Greek population identifies as Muslim.
A densely populated city
Athens has always been a heavily populated city and that hasn't changed in its modern incarnation. The city proper of Athens only spans 39 square kilometers and packs 665,000 living inside the city limits, this equates to a population density of 17,100 people per square kilometer. Once in the Greater Athens area, this drops to 6,000 per square kilometer. In comparison, Greece's overall population density is 200 people per square kilometer.
Review Updated: July 9, 2020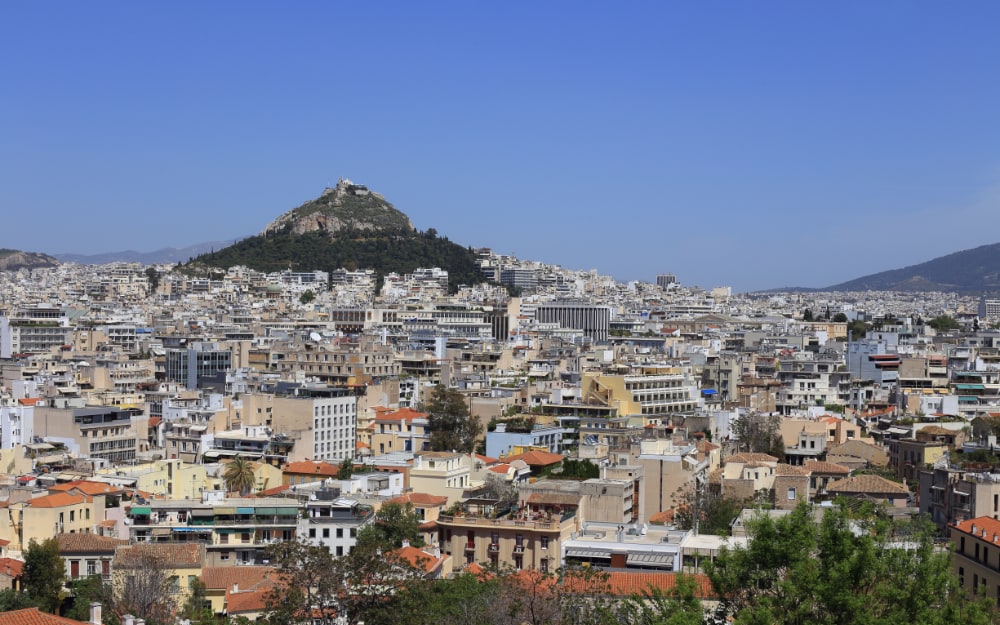 Athens Cityscape
Athens Urban Area Population History
Athens Urban Area Population Projections
Map of Athens, Greece
All Biggest Cities in Greece