Population in Urban Area, now
World:

214th

Oceania:

3rd

Australia:

3rd
Population in City Area, 2022-03-07
World:

132nd

Oceania:

3rd

Australia:

3rd
Brisbane Urban Area Population Graph
Brisbane Population Review
The capital city of Queensland, Australia, Brisbane was named Australia's hippest city by Lonely Planet. This sun-soaked city of 2.4 million people gets 283 days of sunshine per years and the third most populous city in the entire continent of Australia. Named after the Brisbane River, which flows through the center of town, Brisbane is a thriving multicultural hub whose population has multiplied several times over in the past few decades.
While the city continues to grow and experts predict the population will reach 2.8 million by 2035, Brisbane has managed to keep accommodations affordable. This is in part due to the inner city of Brisbane's lower population density. The city has a population density of 346 people per square kilometer, which makes it densely populated, but not nearly as congested as Sydney or Melbourne.
An exploding population
Urban renewal plans implemented shortly after the end of World War II begin attracting more people to the city. Since then, the city's population growth has continued to impress. Historically, Brisbane has always exceeded its population growth predictions. Since 1950, Brisbane's population grew from 442,000 to 2.3 million--a growth of 436%. In the past eight years alone, the growth rate has been strong and consistent, varying between 1.32% all the way up to 6.67%. The city adds around 35,000 new people each year, much of this due to interstate migration and a high birth rate. Brisbane's rating as one of the world's "Most Liveable Cities" continues to attract overseas migration as well.
A multicultural population
The city's appeal to immigrants, as well as its historical roots, makes Brisbane a welcoming and multicultural city. One third of residents living in the city were born overseas and almost 20% speak a language other than English at home. The most popular languages spoken in the city after English are Mandarin, Vietnamese, and Cantonese. The population of Brisbane is spread hails from numerous different descendants, with 39% having an English background, 34% being Native Australian, 13% Irish, 11% Scottish, and 6% German. The city is also very well educated, with more than 330,000 residents holding a university degree, equivalent to a bachelor's degree or higher.
An equal split of married and single people
Whether you're coupled up or single and looking, you'll feel right at home in Brisbane. The split between married and single people in the city is quite close, with 47% of people listed as married, 36% listed as never married, and 12% either divorced or separated. This makes mingling and making friends in the city exceptionally easy, especially since Brisbane is considered a friendly and overall safe community for everyone there. Much of Brisbane is quite young as well, with the working age population of 15 to 64 accounting for 70% of the city's population.
Tourism to Brisbane
Brisbane is one of the most popular tourist destinations in Australia. Visitors to Brisbane number over 9 million annually. While over a million of these travellers are international visitors, the vast majority (around 7.7 million) are domestic, overnight visitors coming to enjoy Brisbane's climate and attractions. Brisbane's popularity as a tourist destination has continued to increase, with the number of domestic visitors to the city increasing by 73% and international visitors increasing by 50% since 2010. The overall number of visitors increased again in 2019 by 7.4%.
This influx of visitors helps boost the city's economy as well. With international tourists spending an average of $100 per night, Brisbane makes around $7.6 billion annually from tourists—$2.9 billion from international tourists and $4.9 billion from domestic, overnight visitors. Brisbane is most popular with tourists from China and New Zealand, with almost 20% of visitors from these locations travelling solely to Brisbane.
Review Updated: July 9, 2020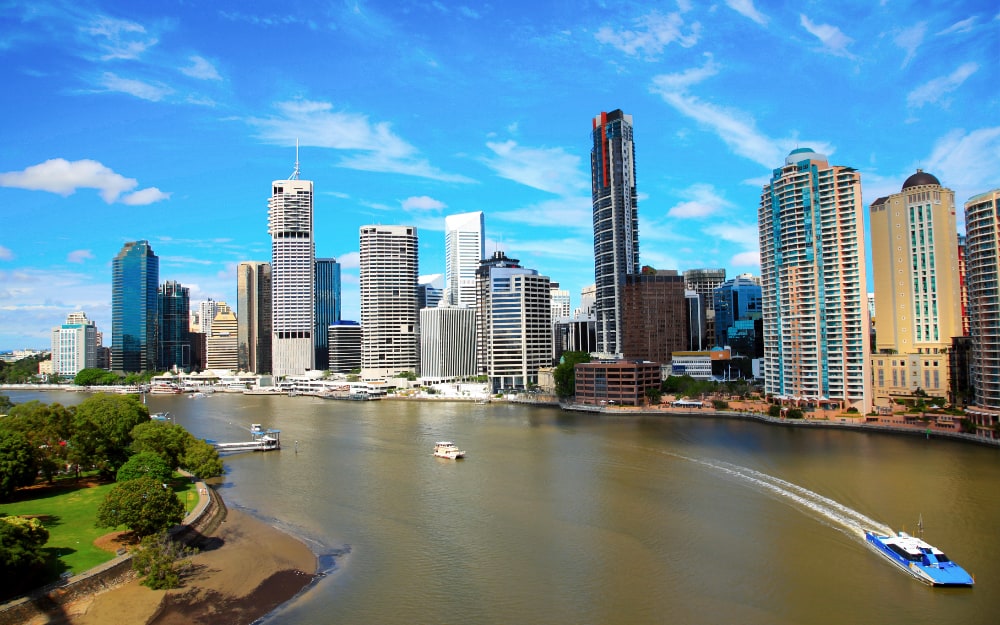 Brisbane River and City
Brisbane Urban Area Population History
Brisbane Urban Area Population Projections
Map of Brisbane, Australia
All Biggest Cities in Australia